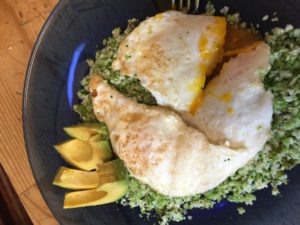 What's the best healthy breakfast? My favorite veggie scramble is a great way to start the day with high nutrition. So often due to a busy schedule and work,  we tend to stop and pick up take out from the coffee house or drive through, eat something that's high in sugar and low in nutrition,  or we have no breakfast at all.  We don't have time to cook our meals and might have to eat out for lunch too. I find if I at least get this in at the start of the day, I've done something great for my body that will carry me through the early part of the day.
Having breakfast is very important to your health and your productivity.
This is quick to put together and gives you a balance of nutritients to start your day.
What you need to put it together
I prefer using a non-stick pan.
Food Processor (Mine is the Kitchen Aid brand))
Spatula for flipping eggs
Ingredients:
Coconut oil spray
2 large or 4 medium asparagus
a handful of broccoli florets
a handful of cauliflower florets
2 pastured eggs
*optional Parmesan cheese preferably made from goat or sheep milk
Directions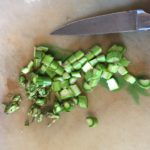 Rinse off veggies. If you are using large asparagus, I'd suggest you split them in half or quarters before chopping them. Spray plenty of coconut oil spray into the pan and put the asparagus in the pan. Wait to start the cooking process till you have everything prepped and ready to go. I find if I don't have it all ready, something will get overcooked and basically kill all that
wonderful nutrition in the veggies.
Prep for the broccoli and cauliflower: I break up the florets into my Kitchen Aid food processor. I turn it on for about two seconds and then pulse it until the contents are riced. Set aside.
Saute the asparagus on medium low heat, for about 2 to 3 minutes then add the riced broccoli and cauliflower. Cover with a lid. Stir about every minute for 3 minutes maximum. You want the broccoli and asparagus to still look bright green.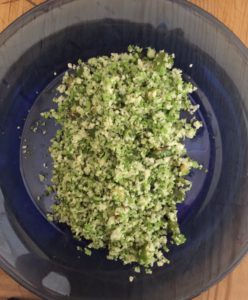 Empty the pan onto a plate and sprinkle with a little Parmesan cheese.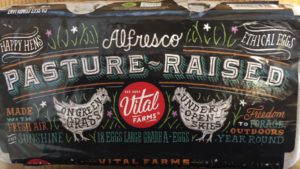 I like to fry (on low medium heat), with a little more coconut spray, my two pastured eggs. Break the eggs into the pan. Sprinkle a little more Parmesan cheese over the eggs while they are cooking. After about 2 minutes, gently flip so as to not break the yoke. Cook for no more than a minute and then with a spatula, place the eggs over the veggies. I like my eggs over easy so that the yoke can run over the veggies, but you cook them however you like.
The Anti-Inflam Scram
Another way to prepare this dish is to scramble the veggies with the eggs. Have the eggs broken in a small bowl and scrambled. You can scramble in the Parmesan cheese. Once you've reached the part of the recipe above where you add the broccoli and cauliflower to the asparagus in the pan, cook for about a minute and then add the egg mixture. Continually stir the ingredients, flipping them with a spatula until the egg is cooked. Remove from the pan immediately so that the veggies do not overcook.
Because the broccoli and cauliflower are riced, they cook a lot faster. In order to get the most nutritional benefit out of these veggies, not to mention the best taste, it's very important to not overcook them.
The Great thing about Broccoli and Cauliflower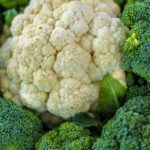 Broccoli and cauliflower are considered cruciferous vegetables. These amazing vegetables, besides having anti-oxidant and anti-inflammatory properties, have a substance in them called sulforafane. It has cancer fighting properties. A serving a day is very beneficial for your health.
The Great thing about Asparagus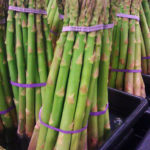 Asparagus contain a high amount of the amino acid asparagine which acts as a diuretic. This makes asparagus an ideal natural way to help rid yourself of bloat, swelling and inflammation.
Check out my post that elaborates on the topics of how healing asparagus and cruciferous vegetables are.
Why Goat or Sheep milk Parmesan?
Adding Parmesan cheese to this dish is optional, however I really enjoy the flavor it adds. Most often we purchase Parmesan cheese that is made from cows milk which can be problematic for people who are lactose intolerant.
Parmesan also contains salt so if you are on a low sodium diet, it's probably best to avoid the Parmesan or use sparingly. Instead you might try your favorite no salt seasoning.
A great alternative for people who are lactose sensitive or intolerant might be Parmesan made from either sheep milk or goat milk. The fat globules in these two milks are smaller than in cows milk which makes them more easily digestible. Some people don't like the stronger, sharper taste of goat milk and goat milk products which makes sheep milk cheeses a better alternative.
Conclusion
If you require more carbohydrates in your diet, I would recommend adding some gluten free oatmeal on the side. If you suffer from pain and inflammation or have an illness, I would recommend that you avoid adding sugar, a high glycemic sweetener or an artificial sweetener. Instead add a little cinnamon and a little stevia to sweeten it up if you must. Some gluten free toast is another option if you'd like to up the carbs.
The first time you make this, like with most things we do for the first time, it might take a little more time, however once you have it down, it's a piece of cake, without the calories;) You can have it done and ready to eat in no time.
Next time you are racking your brain for what's the best healthy breakfast, remember this very healthy veggie scramble. Who needs hash browns?;)
I'd love to hear from you. Please feel free to ask questions or comment in the comments section below and I will get back to you soon. Let me know what you enjoy putting in your healthy morning scramble.
In Good Health,
DrDina:)