It's always fun to find a new method for increasing recovery after workouts as well as decreasing pain and stiffness in the joints. An important factor for athletes, whether you're a competitive athlete, someone who works out for health and fitness, or a weekend warrior, is the ability to recover. Recovery is important in order to achieve positive gains in performance and strength or just staying fit and prevent injury that often occurs due to tight muscles.
In the last couple of years this wonderful new therapy tool has become very popular.  You probably see it everywhere. It's  referred to as a massage gun, or percussive massager. Sports teams use them to help with recovery even while on the side lines between plays.
When exercising or physically exerting oneself in a sport, the body's tissues, muscles, nerves, ligaments, tendons and bone, need time to rebuild. The massage gun can help decrease the time it takes to recover by increasing circulation, decreasing the effects of lactic acid, and helping to relax tight muscles.
There are several new manufacturers of this therapy tool in the last few years making it difficult to choose which one is best for you.
As a chiropractor I like to utilize tools that help to relax my patients' muscles prior to making adjustments to their spine. I came upon this brand and have been using it in my practice ever since. I would like to share my experience with you in my Booster Pro 2 review. Decrease your pain with percussion massage and gain that competitive edge in your sport through effective recovery.
Product Specifics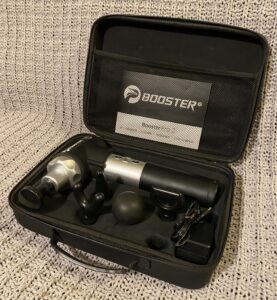 Percussions Per Minute: 1800-3400
Speeds: 9 gears
Built-in Lithium-ion Battery: 24 V
Battery Life: 3 Hrs
What it comes with
Cordless percussion massager
Carrying case
5 massage heads
Charging cord
Instruction Booklet
Warranty
Use of the 5 different attachments
Sphere -> the most gentle attachment

Booster Pro 2 Heads
attached – flat circle
Chisel , Pointed, fork, sphere

Pointed -> for precise massage points, more specific
Chisel -> for larger muscle groups and prolonged time
Flat circle -> for gentle yet direct massage. Works well for gluteal muscles
Fork-> for precise spinal massage or hard to reach places
My Personal use
I originally wanted to purchase this therapy tool because I suffer from chronic pain. I had tried the Booster Pro 2 at my sister's house since she had one and was amazed at how it helped relieve tension in my muscles and decreased the pain in my joints.
I tried out the different attachments to see how they felt in different muscles with the various speeds available in the Booster Pro 2. Through my personal use of this therapy tool, I was able to figure out how I could best utilize this tool in the treatment of my patients.
I use the Booster Pro 2 on my hips, thighs, legs and feet with ease. I also can use the Booster Pro 2 on my shoulders, forearms and hands as well as the back of my neck. The only areas that are difficult to treat myself are my low back and mid back due to difficulty applying appropriate pressure at the correct angle. I have to find a willing person to administer the treatment.
The Booster Pro 2 puts out a strong percussive pressure. When using the sphere you can lighten up the amount of pressure that the massage gun puts out. I find it's best to use the sphere when working on muscles that are sore or sensitive. When I want to go deeper and more specific with the amount of therapeutic percussion I like to use the chisel or the pointer.
Utilizing the Booster Pro 2 on patients/clients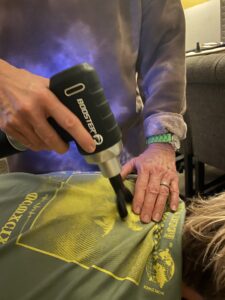 In my 25 plus years of  chiropractic practice I perform soft tissue massage with all of my patients prior to adjusting them. I've been using my hands and occasionally the cold laser. As the years go by and the hands are getting tired, it's nice to have a tool that I can use part of the time, to help relax my patient's muscles. I especially use the Booster Pro 2 on hips/gluteal muscles, thighs, legs and along the mid to lower para-spinal muscles as well as the shoulders and upper back.
Most of my patients like my use of the Booster Pro 2. They find that it relaxes them and helps to decrease their pain.
One thing to keep in mind is that the Booster Pro 2 puts out a strong percussive force.  It's important to monitor the amount of pressure placed on the booster pro as it can deliver quite a deep percussive force. Some people may be intolerant to this pressure. For anyone who cannot tolerate the deeper stimulus, I would recommend using the sphere and be sure to gently place the therapeutic head lightly on the area being treated.
The lower frequencies work well for muscle recovery after exertion in a sport or workout. The medium frequencies work well to loosen muscles therapeutically and help decrease pain by interrupting the pain stimulus to the brain. The higher frequencies work well for thick muscle tissue, for someone who is tolerant to the intensity of the percussive frequency, and great for prepping muscles for an intense workout.  Remember to keep the treatment time to 30 seconds per region.
The stall force, which is the amount of pressure it takes to actually stall the motion of the gun is 33 pounds. I've never experienced that happening and I have pressed hard into my own hips thinking I may stall it but the gun keeps going. I've put it through the test many times and it's amazingly strong.
The amplitude, that's the amount of depth it travels is 12 mm. I have found that is plenty deep for most muscle groups, depending on the position. I've never had to push very hard to get the desired effect on my patients. When I've used it on myself, especially in my hips, that is when I press pretty hard at a medium frequency and experience the desired effect of relaxation in the muscle group.
Precautions and Contraindications
Avoid using the Booster Pro 2 or any other percussive massage tool if you have thrombosis (blood clots).
Consult with your doctor prior to using any percussion massage gun if you have any of the below conditions or if you are uncertain about use with any other condition not listed.
Lumbar injuries
broken bones
sprains/strains
cardiovascular diseases
varicose veins
pregnancy
advanced level of diabetes
certain types of chronic back pain or injuries
when taking blood thinning medication
scabs, wounds, cancerous lesions
anywhere where the is impaired sensation
use caution in the neck.  Avoid the front of neck
Conclusion
In the over 25 years that I have been a practicing chiropractor, this piece of equipment is by far the best investment I've made in equipment. It's very effective for preparing my patients for adjustments and of course, I love using it on myself to help relieve my aches and pains and muscle tightness.
I hope the information I shared in my Booster Pro 2 review is helpful.  In conjunction with a regular stretch routine its a great way to decrease pain in tight muscles and help you recover for optimal performance.
What recovery routine do you use that helps your athletic performance? Please share in the comments section below.