Who doesn't want a sweet treat now and then? Especially during the holidays, when deserts seem to appear at every turn while celebrating the holidays.
In the last couple of years I've had to give up sugar pretty much all together due to health issues. I still wanted to have a fun treat from time to time, so I decided to modify some fun favorites into sugar free options.
Checkout some recipes that you can enjoy during the holidays or any time. A great way to stick with your New Year's resolution and still have some fun food.
Low Carb Sugar Free Desserts
Low Carb Shortbread Cookies
This is one that I modified from a friend's Snowball recipe.
Ingredients:
1/2 cup butter (room temp)
1/3 cup Swerve Erythritol sweetener
1 Tbsp Water
1 tsp vanilla
2/3 cup coconut flour
dash salt
1/2 cup chopped walnuts
1/2 cup sugar free chocolate chips (Lily's stevia sweetened)
1/2 cup shredded unsweetened coconut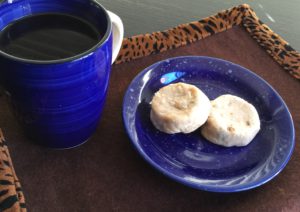 Mix softened butter and Erythritol sweetener with a hand mixer. Add water and vanilla making sure that all ingredients are mixed thoroughly. In a separate bowl, measure out the coconut flour. Sift the coconut flour with the salt so that coconut flour is no longer lumpy. A little bit at a time, mix dry ingredients into butter mixture using a rubber spatula or a fork until all of the coconut flour has been mixed in uniformly. Add walnuts, chocolate chips, and coconut, mixing them in well. Preheat oven to 300*. I like my cookies to be uniform, so I weigh the dough for each cookie. You can eyeball it if you wish. I use 32 grams of dough for each cookie, shaping it into a round cookie, about 1/2 inch thick. Placed cookies about 1/2 apart on an un-greased cookie sheet. Bake for 16 minutes. Do not brown top. Cookies will not rise. they will be the same size that you shape them into. Let the cookies cool on the cookie sheet until cool to the touch before you move them to another container. They tend to crumble if moved too soon.
I love to eat these cookies with a hot beverage.
Coconut Muffins
This is a recipe I modified from a coconut pancake recipe. This is one of my favorites.
Ingredients:
1 cup coconut flour
1/4 cup erythritol (Swerve) sweetener
2 tsp baking powder
1/2 cup melted coconut oil
4 whole extra large eggs
16 oz liquid egg white
1 cup unsweetened almond milk
`1 tsp vanilla
100 drops liquid stevia (additional 50 drops if you don't use erythritol)
98 grams Lily's dark chocolate baking chips
Preheat oven to 350*. Whisk dry ingredients together. (if coconut flour is lumpy, run dry ingredients through a sifter) Set aside. Mix wet ingredients together except coconut oil. Slowly mix wet ingredients into dry ones until blended. Melt coconut oil. Using a hand mixer on low to medium, blend coconut oil into the mix until mixture is smooth. Place 1/3 cup mix into greased (coconut oil spray) silicone muffin cups. Place on a cookie sheet and bake for 30 minutes. Let stand for a few minutes and pop muffins out of muffin cups.
For chocolate muffin tops, melt dark chocolate (I like to use sugar free dark chocolate from Trader Joe's) in a double boiler. When chocolate is melted, dip the muffin tops in. Let them sit until chocolate hardens.
For a fun option, add chocolate chips to batter before pouring into muffin cups.
Makes approximately 15 muffins weighing about 72 grams per muffin. 146 calories and 7 grams of protein in each muffin. This does not include the chocolate.
Low Carb Pumpkin Bread/muffins
This recipe comes from modifying a pumpkin muffin recipe. What makes this one so yummy is all the spices.
Ingredients:
1 cup pure unsweetened pumpkin puree
4 large eggs
3 Tbsp melted butter
1 tsp vanilla extract
3/4 tsp baking powder
1/2 tsp ground nutmeg
1/4 tsp ground cloves
1/4 tsp ground ginger
1/2 tsp sea salt
1 1/4 tsp cinnamon
2 1/2 cups almond flour
1/4 cup dry stevia
1/4 cup erythritol
1/2 cup chopped walnuts
Option:
If you add a handful of raisins or dates it increases the carbs of this recipe
For extra texture and nutrition add 75 grams flax seed meal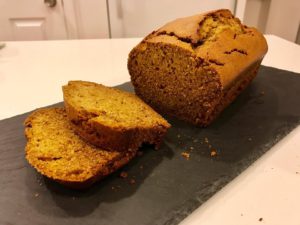 Preheat oven to 325*. In a large bowl mix (using a hand mixer) pumpkin and melted butter. Then add vanilla and beat in the eggs. Add all spices and salt and blend real well. In a separate bowl whisk together almond flour, stevia powder and erythritol (as well as flax meal if you're adding it). Stir in dry ingredients and walnuts (as well as dates or raisins) into wet ingredients until well blended. Batter will be thick. Spoon batter into muffin cups or small bread tins. Smooth tops as much as possible. Bake 25 to 30 minutes, until toothpick comes out clean.
Hi Protein aka Bodybuilder pancakes/muffins
I started making these when I was body building for a quick high protein snack or breakfast. They're not as sweet as the previous recipes, but these are great when you are dieting strict, have gotten used to not eating sweet stuff and want to enjoy something with bread like texture that's low in carbs and high in protein.
Ingredients:
16 oz egg whites
4 egg yokes
420 grams pumpkin (1 15 oz can)
1 tsp vanilla and/or 2 tsp almond extract
lots of cinnamon
1 Tbsp melted coconut oil
1/2 cup unsweetened coco
115 grams unflavored, unsweetened whey protein
8 packets of dry stevia or 70 drops liquid stevia
1/2 cup quick oats
1/2 cup frozen wild blueberries
Preheat oven to 350*. Combine wet ingredients (except the coconut oil) in a large bowl using a hand mixer. With mixer running add cinnamon, coco, whey protein and stevia. By hand, using a rubber spatula, add quick oats and blueberries. Let stand in fridge for at least 2 hours or overnight. Place silicone muffin cups in a muffin tin or on a cookie sheet. Fill muffin cups with 1/3 cup batter or just below the top of the cup. I like to spray the muffin cups with a little cooking spray just to make sure muffins don't stick to the cup. Bake for 25 to 28 minutes or until toothpick comes out clean. Let cool for a few minutes before popping the muffins out of the cups.
Total weight of whole batch cooked = 1140 grams, Total calories = 1557, Total protein = 163 grams, Total carbs = 96.5, Total fat = 48.5. If you get 15 muffins out of this batch the average weight per muffin is 76 grams, average calories per muffin = 103.8, average protein = 10.9 grams, average carbs = 6.4 grams, average fat = 3.2 grams.
Conclusion
If you decide to give one of these a try, let me know how they turn out and of course let me know if you have any questions. I'd love to hear from you.
DrDina:)